While remote work is not a new concept, the year 2020 will always be remembered as the year of remote work. Almost every company had to incorporate remote work into its culture, at least partially in some way. Even the most lacking government systems suddenly moved to a much faster and more efficient remote work system.
Before the covid-19 pandemic, the game industry was a bit of slacker in regards to remote work, with most studios, especially the big ones, insisting it's not practical. So when covid-19 hit hard earlier this year, all studios had to quickly shift gear, modify their work environment and routine, and adapt quickly. Studios survival now depended on being able to work remotely. And the remote work experience was met with varying degrees of success. Some studios said after the shit, it barely affected their work schedule. Some said they actually loved it, and plan to incorporate it further after the pandemic. While others such as Valve's Gabe Newell said covid-19 reduced their productivity by 50-75%.
With the recent news about Pfizer's vaccine demonstrating 90% success rate, and the anticipation of accelerated approval and the start of mass production and distribution, talks are already shifting about when can work go back to normal.
Despite the vaccine news however, there is still further testing needed, and there are challenges for mass production and distribution to all the different countries.
So the pandemic is expected to last up to at least mid 2021, and most studios aren't holding back on hiring in the meantime. But the hiring remotely itself sometimes comes with a warning: "Remote during covid-19. After things are safe, employees are expected to relocate to our studio". Through my daily work on Remote Game Jobs, I've seen such statements on Career pages over and over. This creates a highly tricky situation, as many people are have lost their jobs, or are fresh graduates who desperately need a new job. But the uncertainty of when the pandemic will be over, and will they actually have to relocate, makes it a very hard decision to make. I've seen many people post they've been laid off, and need a new remote job. And at the same time, I've seen others saying they got a new job, which they need badly, but it requires relocation after covid-19. They don't know how long that will be, and are not sure if they want to relocate there or not. Also, who is to decide when it's actually safe to come to office or not. Even some studios are not so clear on things, with some saying they will consider the situation afterwards. Perhaps if the candidate is really good and doing his work remotely, there is no reason to force them to relocate. But what if that's not the case? 
So I thought it would be interesting to do some little analysis from the jobs on our site. I know this is a small, and very biased segment that is focused on remote work, but with that in mind, I wanted to see how many of these studios hiring remotely are planning to continue on doing so. I went through over a 100 jobs that were posted on Remote Game Jobs, and this is what I found.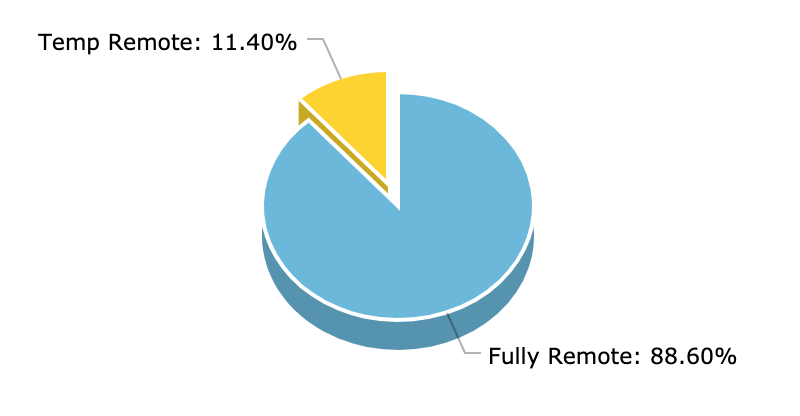 88.6% of the jobs posted on the site have been marked as Fully Remote, meaning the studio does not intend to relocate the employee afterwards. Meanwhile 11.4% highlighted this is a temporary situation only. Now again, this is by no way a reflection of the real situation, but a focused look on a job board specifically made for remote work. The fact of the matter is, many studios did not want to list their covid-19 remote jobs on Remote Game Jobs for fear of sending in the wrong message.
As a strong proponent of remote work however, I am looking at the positive in here. Which is how many studios don't care about the pandemic. They either were fully remote before, and continue to do so. Or have gone accustomed to it during the pandemic. Another interesting segment are the studios who grew soft on the idea of remote hiring globally when they come to realize it can actually work, and it will help them find the talents they were not able find for months.
Studios in locations like Asia can have a much smaller pool of game talents to hire from, and they were struggling to fill in the senior positions. So when covid-19 forced them to work remotely, it became clear this is a viable option, and would suddenly remove all geographical barriers to the top talents around the world.
Another thing I wanted to look at is how often is there regional restriction on the remote job. Some studios require specific time-zone work hours, or regions. This is more clear especially for countries like the United States, Canada, and Australia, as they live in a very different time-zone. Countries in Europe are at an advantage, as they have a massive pool of talents, all living within close time-zone proximity.
Sometimes the legal complexity of hiring from abroad also forces studios to require local remote talent. But that's still a huge win for all the local talents, who don't need to relocate to a different city.
Overall, 78.08% of the jobs posted allowed for remote work from anywhere without any restrictions (some had a preference), while 21.92% had some sort of time-zone or regional restriction.

If you've had experience with remote work during the pandemic, I'd love to hear it. Also any thoughts you have about the future of remote work would be of interest to me.